Creations of things in Japan are supported and produced by small businesses.
We will spread its technology to the world
I think it is the role of the TEKNIA group.
In Japan, the tradition will continue throughout the future of manufacturing, therefore, TEKNIA will aim to improve the technical capabilities. Manufacturing in Japan, we would like to cherish the unique Japanese way of taking great importance in the quality of what we do. We will also help you with small oversea expansion with our support system, which is well appointed in oversea expansion. I dream that small businesses in Japan will hopefully be active around the world.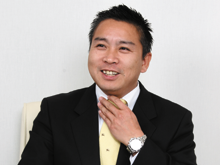 CEO Hiroshige Takahashi